ACR – Urologic – Acute Onset of Flank Pain – Suspicion of Urolithiasis
Case
Left ureteric calculus
Clinical:
History – Left flank pain in a 55 year old female. The patient had a history of uterine fibroids.
Symptoms – The patient presents with persistent left flank pain that seems to come in waves.  She thinks there was blood in her urine.  She says the pain radiated from the left back to the left groin.
Physical – Left costophrenic angle tenderness was identified.  Nil else. Macroscopic blood was seen in her urine.
Laboratory – Hematuria was definitely present.
DDx:
Renal mass
Urinary tract infection
Urinary tract calculus
Imaging Recommendation
ACR – Urologic – Acute Onset Flank Pain – Suspicion for Urolithiasis, Variant 1
CT of Abdomen and Pelvis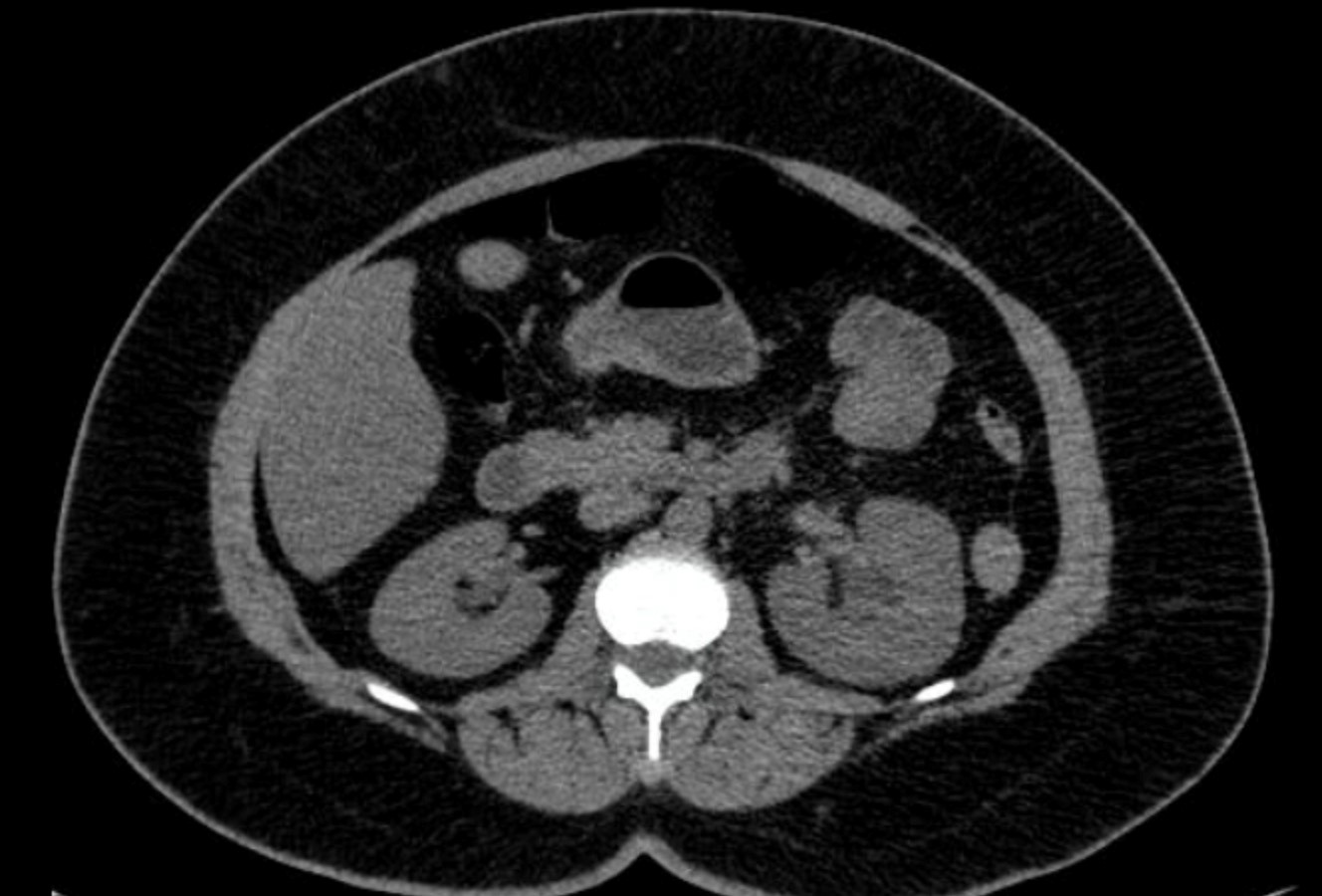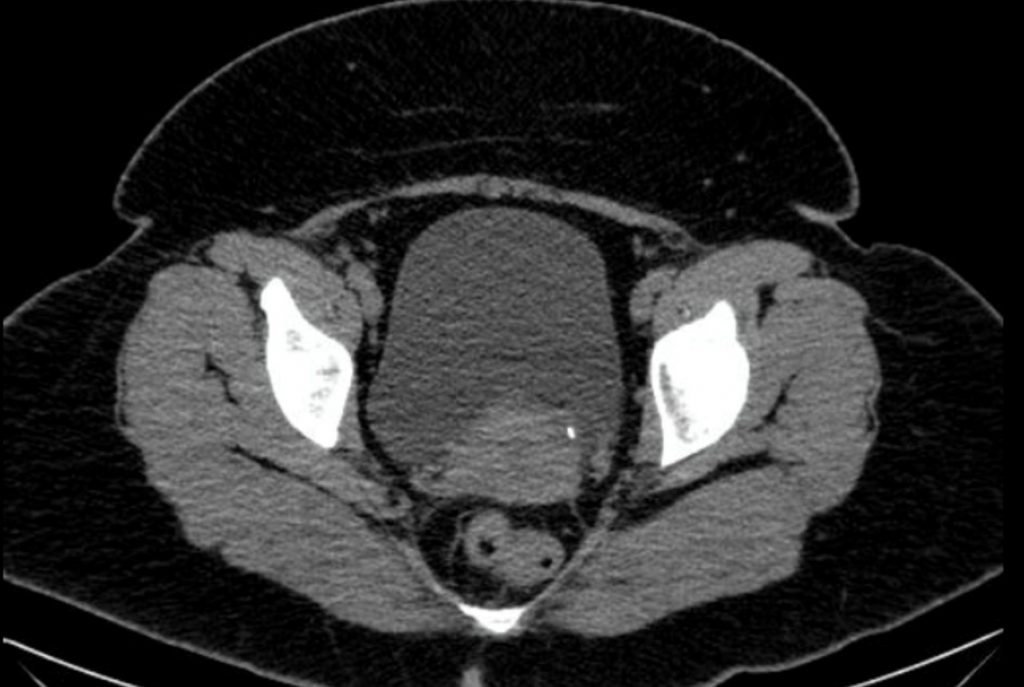 Imaging Assessment
Findings:
The left kidney was mildly hydronephrotic and there was mild perinephric fat stranding.  The left ureter was mildly prominent.  A dense, small (5mm), calcification was seen at the left vesico-ureteric junction. Calcified fibroids were seen in the uterus. Nil else.
Interpretation:
Left ureteric calculus
Diagnosis:
Left ureteric calculus
Discussion:
Urinary tract calculi are thought to result from either excessive excretion and precipitation of salts in the urine or a relative lack of inhibiting substances. Men are more commonly affected than women, and the incidence increases with age until age 60 years. Children are affected less frequently. Calculi (stones) tend to be recurrent, and flank pain is a nonspecific symptom that may be associated with other entities; therefore, evaluation with imaging is recommended at the initial presentation.
A stone small enough to pass into the ureter may cause blockage of urine flow with distension of the upper urinary tract. The ureter contains several areas where stones commonly become lodged (e.g., at the ureteropelvic junction, the iliac vessels, and the ureterovesical junction). Ureteral hyperperistalsis occurs, resulting in the acute onset of sharp, spasmodic flank pain. Irritation of and trauma to the ureter may also result in hematuria.
The probability of spontaneous passage of a stone is size dependent, and the probability is inversely proportional to stone size. A meta-analysis yielded an estimate that a calculus ≤5 mm ha da 68% probability of spontaneous passage. A 10-mm stone, however, was very unlikely to pass spontaneously. Therefore, the treating physician wants to know the size of the stone as well as its location.
Since the introduction of helical (spiral) CT as the initial study in evaluating flank pain, numerous investigations have confirmed it to be the study with the highest (>95%) sensitivity and specificity for urolithiasis. Virtually all stones are radiopaque on CT, and stone size can be measured accurately in multiple planes, aiding in predicting outcome.
Concerns over radiation exposure, especially in young stone patients, have led to the development of reduced-dose CT regimens. If CT is being performed to evaluate for renal or ureteral stones, a low dose protocol should be performed. Techniques for lowering dose include using a lower kVp, lower tube current, use of automated tube current modulation, and use of iterative reconstruction.
X-ray findings may include:
Urinary tract calculi frequently contain calcium (70 – 80%). Thus, they may be seen on radiographs.
The calculus may be anywhere in the distribution of the collecting system, ureter, or bladder.
Small calculi may be difficult to see or may be confused with ingested pills, lymph node calcification, vascular calcification, or phleboliths.
---
Attributions
Figure 16.1A Axial CT of the abdomen by Dr. Brent Burbridge MD, FRCPC, University Medical Imaging Consultants, College of Medicine, University of Saskatchewan is used under a CC-BY-NC-SA 4.0 license.
Figure 16.1B Axial CT of the pelvis displaying a left ureteric calculus by Dr. Brent Burbridge MD, FRCPC, University Medical Imaging Consultants, College of Medicine, University of Saskatchewan is used under a CC-BY-NC-SA 4.0 license.